Shed Sale - Amish Built. Quality Construction!
Yoder Barns is having a shed sale on both the painted and pressure treated Value Series Shed. Buy your Amish constructed Value Series Shed at 10% off until June 18th and 5% on treated Value Series stock sheds.
Select either painted 50-year siding or limited lifetime pressure treated 5/8" plywood. Sizes range from 8x8 to 14x40.
Value Series Features Include:
Metal or Shingle Roof
3/4" Plywood Flooring with 16" on center floor joists
6' Wide Double Door Opening
FREE Local Delivery
Much more, please ask!
Custom Sheds and Storage Barns
Although it's our Value Series sheds on sale, all our custom sheds and storage buildings are affordably priced for their high-quality, Amish-built construction. Shop our custom, Amish-built sheds in person when you visit our main location in West Salem, Ohio or our satellite / pop-up location in Brunswick, Ohio. You can also find our sheds this 2021-2022 season at Ohio Outdoor Structures and Bolivar Outdoor.  Click on our 2021-2022 catalogue below to view dimensions, prices and the variety of custom options.
Yoder Barns 2021-2022 Product Catalog
Click on the image of the catalog below to open the product catalog with dimensions, colors, features and options available, as well as prices at time of print in March 2021.  Due to price increases of building materials the prices in this recent catalog have increased by approximately 25% - get a free quote for details.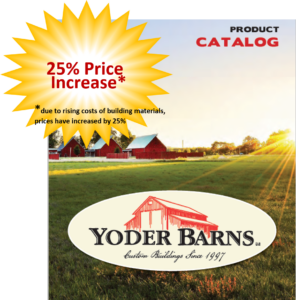 Value Series Shed Sale Through 6/18/21: Sale on Pre-Built & Custom Sheds